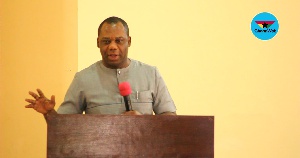 Conference of Heads of Private Senior High Schools (CHOPPS) has called on government to extend its Free Senior High School (SHS) educational policy to cover students in the private SHSs.
At a well-attended press conference in Accra yesterday, National Secretary of CHOPPS, Mr. Joseph Dzamesi, called on government to introduce a system which will make it possible for students to attend private senior high schools whilst benefiting from the free SHS educational policy.

"We call on government to extend its policy of free SHS to cover students in private senior high schools also. We therefore suggest that the amount of money earmarked per student to attend senior high school be granted to the student whether he or she attends a private or public senior high school. We are calling for a system similar to what pertains in the health sector," he urged.

"On the other hand, government could also allocate some funding to the private schools to enable them absorb students who prefer private schools to the public schools," he suggested.

Mr. Dzamesi said that their schools could be tagged "private" and parents should be informed that when a private school is selected, the student would have to pay school fees which cost will be borne by government. "With this a student who may not be happy with his or her placement or a student who is not able to find a school that he or she likes may select a private school."

According to him, their schools have been neglected due to the introduction of the free SHS policy.
President Nana Addo Dankwa Akufo-Addo on Tuesday launched the free SHS policy in line with the Sustainable Development Goal (SDG) Four, Target One, which states: "By 2030, ensure all boys and girls complete free, equitable and quality primary and secondary education, leading to relevant and effective learning outcomes."

However CHOPPS was not happy with the development asking: "What is to happen to the millions of Ghana cedis that have been invested in our schools? What is to happen to 10,000 plus Ghanaian workers who are currently employed in our schools? What is government's plan to provide a platform that gives our schools a realistic chance to thrive?", he cleverly remarked.

He maintained that, CHOPP considers the development so far as undermining the contribution of private senior high schools in the educational sector.

"It is as though the government is intentionally trying to collapse all private senior high schools in the country," he said.