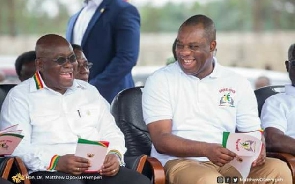 The Conference of Heads of Private Second Cycle Schools in Ghana (CHOPSS) has called on government to partner private senior high schools (SHS) in the implementation of the Free SHS policy.
According to CHOPSS, government has neglected private senior high schools in the implementation of the policy even though they have partnered government over the years to give quality secondary education to Ghanaian students.

Addressing the media in Accra on Wednesday, 13 September 2017, Secretary of CHOPSS, Joseph Dzamase, called on government to as a matter of urgency, include them in the policy.

"We partner government; we partner the Ministry of Education in educating our Ghanaian children. We are happy that the present government has come out with this laudable programme to give education to every Ghanaian child and by extension, it means children of private schools are also Ghanaians belonging to Ghanaian parents. So we find it a little bit worrying when the programme has started and we haven't heard of private schools inclusion. It's on that basis that we've met here to let our concerns be known by the listening ear of government and by extension the stakeholders," he stated.

Speaking in an interview with Class News' Jonas Ofori-Yeboah, the president of CHOPSS, Mr I.K Mensah said their classrooms are empty because of the Free SHS as there is a mad rush for entry into public high schools.
He, however, expressed confidence government will address their concerns and called on parents whose wards were not placed to consider enrolling them in private schools for quality tuition.

"We are trying to see if we can open our doors to parents who want their children in private schools and to those who were not placed at all. We have the expertise to even train those with weak grades and not placed at all. There are some schools that can even organise special tutorials for them for one year before they enrol them into the programme. So our doors are open and we know we have a listening government and they will, by all means, listen to us," he added.