General News Mon, 23 Jan 2017
Click for Market Deals →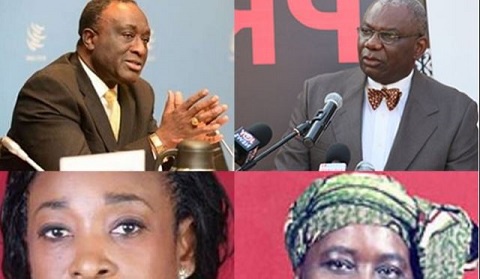 Four more nominees of President Akufo-Addo are to appear before the Appointments Committee as vetting resumes in Parliament today.
The four, namely; Hajia Alima Mahama, Minister-designate for Local Government and Rural Development, Madam Shirley Ayorkor Botchway, Minister-designate for Foreign Affairs, Alan Kwadwo Kyeremanten, Minister-designate for Trade, and Energy Minister nominee, Boakye Agyarko are expected to answer tough questions from members of the committee to prove their ability to effectively handle the respective portfolios they have been tasked with.

The first batch of designates took turns before the committee in Parliament on Friday January 20, and two others on Saturday. The next three are expected to be vetted tomorrow, Tuesday January 23.

Here are the profiles of all four Ministers-designate to be vetted today;

HAJIA ALIMA MAHAMA – LOCAL GOVERNMENT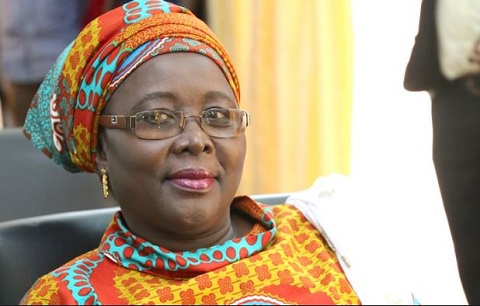 Hajia Alima Mahama is 59 years old and a product of the University of Ghana, Legon graduating with a Bachelor's degree in Law and Sociology, and was subsequently called to Ghana Bar in 1982. She had her postgraduate studies in Public Policy and Development Planning and Administration from the Rutgers University and the University of Ottawa.

She was also at the Institute of Social Studies, in the Netherlands, where she obtained a Masters in Development Studies. As a lawyer, development planner, trainer, public servant and consultant, she has developed strong leadership skills to respond to challenges at different levels and circumstances in the areas of policy advice and strategic leadership.
She has had 13 years of experience as senior planner and gender/development coordinator for the Northern Region Rural Integrated Program. Between 2001 and 2008, she served in the government of John Agyekum Kufuor, firstly as the Minister for Women and Children Affairs; Deputy Minister for Trade and Industry; and Deputy Minister for Local Government and Rural Development.

In the latter appointment, she directed and coordinated the development of the comprehensive policy and plan of action on decentralization for Ghana, and was responsible for the World Bank supported Urban Infrastructure Development Program.

She is the Member of Parliament for the Nalerigu/Gambaga constituency, having been elected as MP for the constituency for the first time in 2005. She has one son and two grandchildren.




SHIRLEY AYORKOR BOTCHWEY – FOREIGN AFFAIRS




Shirley Ayorkor Botchwey is 53 years old. She is a product of the University of Ghana Business School, University of Westminster, London, Ghana Institute of Journalism, GIMPA and Pitman Central College. She holds an Executive MBA (Project Management option), an MA in Public communication, Certificate in Marketing Management, and a Diploma in Public Relations and Advertising.
Before entering frontline politics, she run a successful Marketing Communications Company, and was a consultant for the Ministry of Tourism. She has worked in various organizations such as Worldspace Ghana, Divestiture Implementation Committee, Glaxo Group Research and Hodge Recruitment in the area of administration. In the last NPP administration under President Kufuor, she served as Deputy Minister for Foreign Affairs, Deputy Minister for Information, and Deputy Minister for Trade and Industry.

She is a fourth term legislator who represented the most populous constituency in the country, Weija, for two terms, and is currently in her second term representing the people of Anyaa/Sowutuom. 7 Between 2009 and 2013, she served as Ranking Member on Foreign Affairs, and was also the party's spokesperson on Foreign Affairs.

She has also served on the appointments, defense and interior committees of parliament. Between 2013 and 2017, she was a member of the ECOWAS parliament, and serving as Vice Chair of the on NEPAD & APRM committees.

She is also on the Gender and Children's committee. She is a mother of two.

ALAN KYEREMATEN – TRADE & INDUSTRY




Alan is a graduate in Economics from the University of Ghana, and a qualified Barristerat-Law from the Ghana School of Law. In addition, he was a Hubert Humphrey Fellow at the University of Minnesota, under the US Fulbright Fellowship Programme.
In 1994, Alan Kyerematen was listed as one of the top 100 Leaders in the world for the New Millennium by the Time International Magazine. Mr. Kyerematen has an extensive and a distinguished record in international development and public policy, trade and enterprise development, politics and diplomacy. He is an Economist, a Lawyer and a Management Consultant.

His previous appointments include Cabinet Minister of Trade, Industry and Presidential Special Initiatives of Ghana; Ambassador of Ghana to the United States of America; UNECA Senior Policy Advisor on Trade; UNDP Regional Director for Enterprise Africa; CEO of Empretec Ghana Foundation, and a Senior Corporate Executive of Unilever-Ghana.

In 2013, the Heads of States of the African Union endorsed his 3 nomination as Africa's candidate for the position of Director General of the World Trade Organization (WTO). Alan speaks English and French. He is married with two children.

BOAKYE AGYARKO - ENERGY




Boakye Agyarko is 60 years old. He holds a Bachelor of Arts degree in Economics and Political Science from the University of Ghana, Legon; an Advanced Professional Certificate in Banking from the American Institute of Banking and an MBA in Financial Economics from the Pace University, New York.

He held a Vice President position at the Bank of New York, in New York, and in over 20 years at the Bank, he worked at senior levels in various departments, including Operations Management and Analysis, Product Development, Global Network Managements, International Banking and Asset Management and the Y2K Management Group.
His responsibilities in these various departments 5 and positions included international trade finance, loan syndications, asset securitization and structured finance. He is a member of the American Economic Association, and an Associate of the American Institute of Bankers.

He served as the National Campaign Manager of the New Patriotic Party for the 2012 Elections, and served as Policy Advisor for the President's 2016 electioneering campaign.

He is a Consultant to Capital Economics and Investments, a start-up economic analysis and investments group in Accra, Ghana.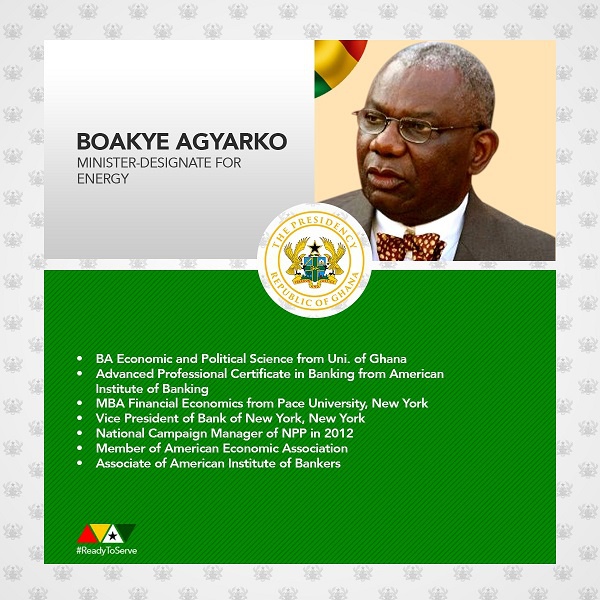 Source: GhanaWeb
Send your news stories to and via WhatsApp on +233 55 2699 625.