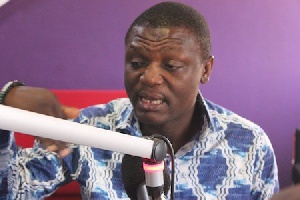 Former spokesperson of Founder of the National Democratic Congress (NDC) Mr Kofi Adams has disclosed that even though Mr Jerry John Rawlings is not be on the front line of the party's campaign, he is playing a strategic role.
He disclosed on Abusua Nkomo hosted by Kwame Adinkra that Mr Rawlings behind the scenes is meeting with cadres and other persons who matter, holding series of interactions with them which will all complement the party's campaigns.

"The former President is playing key and strategic roles even though you may not be seeing him openly campaign as in time past. He has been meeting with cadres and other interests groups to consolidate the efforts of the campaign team", he revealed.

Mr Adams, who is also the National Campaign Coordinator for President John Dramani Mahama for the 2016 elections, maintains that NDC is more united and fired up for victory contrary to claims that the former president has jilted the party and wish it loses the December 7 polls.

According to him, the NDC is a brainchild of Mr Rawlings and it is therefore ridiculous for people to think he will abandon and not wish it wins the polls.

In 2008, Rawlings was instrumental in regaining power for the NDC. He had previously ruled Ghana for 19 years as a military dictator and later metamorphosed into a democratic leader.
He was so conspicuous in the 2008 NDC campaign trail that saw the election of late professor John Evans Atta Mills as the third president in the Fourth Republic leading some; especially from the opposition to speculate that Rawlings will be the de-facto president as a result.

However, Rawlings' participation in President Mahama's bid for another term in the forthcoming elections has been hugely minimal, causing sceptics to rumour that he lacks confidence in the ability of the latter to fix the challenges facing the economy and also fight corruption.

But NDC General Secretary Mr Johnson Asiedu Nketia, argues that the former president's absence was as a result of old age.

"If Jerry is your father will you pull him to campaign at this age?" he asked, pointing out that the party is content to engage the agility of the younger ones in the party "whilst he [Rawlings] stays at the background" proffering wise counseling.