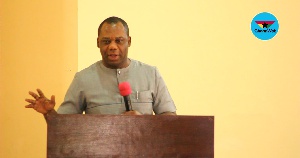 Legal practitioner Abraham Amaliba has asked the "reckless" Minister of Education, Dr. Mathew Opoku Prempeh, to apologise for suggesting to senior high school students without toilet facilities in their schools that they at least have the rubber bag as an alternative.
Answering questions last Thursday at the Meet-The-Press in Accra, Dr. Opoku Prempeh said admitted there are SHSs in the country without toilet facilities but indicated the situation was not as a result of the introduction of the Free SHS as being claimed by some critics.

"There are few schools still in Ghana here that are secondary schools who had no toilets. That is not the result of Free SHS so when you see students portraying that 'I do it rubber bag and I walk 45 minutes', at least you have the rubber bag," Dr. Opoku Prempeh suggested.

But his comment on the issue has since been condemned by some Ghanaians some of who have questioned why a minister would stoop so low on a national television to make such statement.

Commenting on the matter on TV3's New Day magazine show Monday, Mr Amaliba who is a member of the National Democratic Congress legal team said it is important for the Dr. Opoku Prempeh and the government to apologise.

"We were told last week by a reckless Minister of Education that SHS students should do it rubber bags. A very reckless statement from a reckless minister and I am looking for much stronger words to describe him… It is a reckless statement from a reckless minister," he told host of the newspaper segment on the show, Bright Nana Amfoh.
Mr. Amaliba argued the minister made such a statement because he has no children in SHS hence the reason he is behaving that way. He said the NPP is not a trustworthy political party because it "does not walk the talk," adding "they say this and do the other".

Meanwhile, Member of Parliament for Effutu in the Central Region, Alexander Kwamena Afenyo-Markin said Parliament has approved 40 million dollars loan facility to improve some Senior High Schools in the country.

He said the loan was approved by a consensus noting no one was forced to do so, noting that "It's like the Kasoa interchange, we supported it".

Afenyo-Markin said the free SHS is non-negotiable because and that the government will do all it can to make sure it works "It is not negotiable. We have implemented it and I will humbly invite them [the NDC] to come up with a view on what to do to make it better", he added.