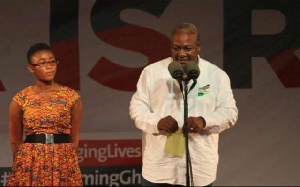 President John Mahama has asked Ghanaians to reject the opposition New Patriotic Party's call for change and rather stay the course and pursue continuity with the governing National Democratic Congress (NDC).
Speaking at the NDC's final rally at the Accra Sports Stadium on Monday, 5 December, Mr Mahama said Ghana faces two choices in the 7 December poll: continuity with certainty or uncertain change, adding that Ghanaians should not be "lured by unanchored promises of change".

"We have made you proud with our achievements. … At the same time, we have not been complacent. … We have fought this election as if we are in opposition," Mr Mahama said.

According to him, "Today, NDC is the most united, most dedicated, most committed, most beautiful, most brotherly party in the political [landscape] … of Ghana.
"Ghana has been in safe hands under my watch as president and Ghana has been the most peaceful, stable nation in the whole of Africa. I've given off my best over the last four years as president and presidential candidate

"We have made modest gains in stabilising the economy, resolving the power crisis, and improving social and economic infrastructure … but more needs to be done but we can only advance faster if we press on and stay the course; that is how we can consolidate the gains we have made.

"I intend to focus on continuing the investments that we have made in improving our infrastructure and bringing our infrastructure up to middle income status. …I will continue be president for all Ghanaians and open opportunities to all Ghanaians irrespective of political, ethnic or religious affiliations, I shall be father for all, I'll continue to be a unifying factor in this country. I humbly ask for your mandate to complete the journey which we all started together."