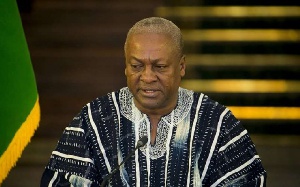 President John Mahama has asked the electorate to renew his mandate at the polls in order to complete projects he has started including the Eastern corridor road.
According to the President, the project which connects the North to the South through the Volta region will open the country and stimulate economic activities.

The project which has been ongoing for a while has stalled due to financial challenges.

However addressing a rally at Garu on his tour of the Upper East region, President Mahama assured the final phase of the project will be completed in his second term.

"I have come before you humbly to ask for your votes to be re-elected to continue the good work that we have started. All of us know the work that we have been doing over these 4 years. We started working on the Eastern corridor road project; we have done several segments of them. It's left with the last segment from Nankpanduri to Kulungungu through Garu Tempane."

He disclosed funding has been secured for that purpose and a contractor will soon move to site to commence work.
"As I speak we have done the design of that road and we have secured the funding to do that last segment. And so it's necessary for us to have the extension of a 4-year tenure so that we can complete the road and open up the Eastern corridor right down from Kulungungu through Garu Tempane all the way to Nankpanduri , Yendi, Bimbilla, Oti Damanko to Nkwanta," he disclosed.

Mr. Mahama went on the state that the Garu constituency has seen a lot of developmental projects under his leadership.

According to him, the constituency is the first to completely eradicate schools under trees.

The President also commended incumbent MP Dominic Azumah who lost the parliamentary primaries for supporting the NDC candidate for the constituency. He urged other losing aspirants who are going independent to take a cue.

President Mahama is on a 4-day campaign tour of the Upper East region after a similar exercise in the Upper West region last week.