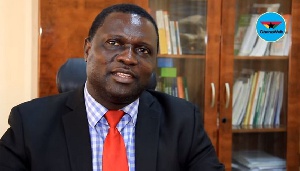 The Ministry of Education (MoE) and the Ghana Education Service (GES) have created centres across the country where parents and guardians of students entering into Senior High Schools (SHSs) can go for assistance in relation to their placement into SHSs.
Dr Yaw Osei Adutwum, Deputy Minister of Education, said the ministry thought it necessary to create these centres to prevent overcrowding at the offices of the MoE and the GES nationwide, as some students and their guardians may encounter challenges with their placement.

Speaking on State of Affairs on GHOne TV on Tuesday, 4 September, Dr Adutwum said: "Solution Centres have been created in all the regions where parents and guardians can go for assistance."

He added: "For instance, in Accra, parents can go to the Independence Square where one of the centres has been created for support."

The Computerised Schools Selection and Placement System (CSSPS) has asked some 67,382 Basic Education Certificate Examination (BECE) students who were not placed into any senior high schools and technical institutes (TIs) of their choice to do a self-placement to get themselves into schools with vacancies.

Out of the 521, 710 registered candidates, 490, 514 candidates qualified to be placed. 423, 134 were automatically placed while the remaining 67, 382 candidates could not be matched with any of their choices.
The students have been advised to select schools of their choice through the following process:

Dial *713*24# to buy a placement pin code of GHS5.00;

After obtaining a pin code log onto the site www.cssps.gov.gh;

Enter the 10-digit index number and add 18 as your year of completion. Eg 123456789218;

Enter the pin code details (serial number and pin);
Click and submit and wait for placement to show up;

Print the form if you have been placed and send to school to begin admission;

Self-placement module

Proceed to self-placement module on the same portal if a candidate has not been placed. Select a school by filling the following:

Region
Programme

School

Click on submit

Print placement form

Send placement form to school to begin admission process
The Ghana Education Service has cautioned that schools selected on self-placement cannot be changed.

Candidates placed on the Green Track will resume on 11 September 2018 whereas the Gold Track will resume on 8 November.