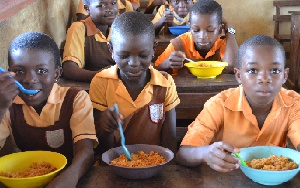 Seventy pupils of Boaman kyrikrom primary school in the Afigya Kwabre North District of the Ashanti Region have been hospitalized in what is suspect to be food poisoning.
The authorities of the school have blamed the caterer in charge of school feeding programe for the school for the predicament of the innocent children.

According to Abusua FM's Kwasi Bodua it was pitiful sight to see some of the children holding their stomachs writhing in pain on the bare floor, while others vomitted after taking in the meal served them.

The school authorities seeing the severity of the case rushed the victims to the Boaman Health Centre where they are receiving treatment.

The Physician Assistant at the Health Centre Daniel Opoku Boateng in an interview confirmed that the pupils have suffered a bout of diarrhea but their condition is not life-threatening.
He said kids will be discharged soon as they are recovering.

There have been several media reports on the poor quality of food served the pupils under the school feeding programme.

Most of the pupils are compelled to eat the food no matter how bad the quality is due to the fact that they go to school on empty stomach.