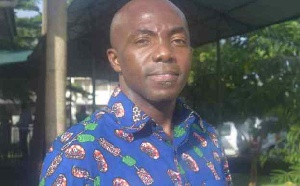 The Ministry of Gender, Children and Social Protection has asked the Coordinator of the Ghana School Feeding Programme (GSFP), Dr. Kwame Adu-Nsiah, to step aside for investigations to be carried out following allegations of fraudulent deals.
The organisation is said to be paying money to ghost caterers.

According to the Gender Ministry, the GSFP is being accused of paying money to caterers who have not been assigned to any school.

It is alleged that the GSFP has been awarding catering contracts to fictitious caterers of non-existent schools who have been paid a total of GH¢141,075 for the third term of the 2017/2018 academic year. Besides, the enrolment figures of some schools have been inflated under the GSFP compared to those of the Ghana Education Service (GES) for the 2017/2018 academic year.
In a letter sent to the GSFP, the ministry instructed Dr. Adu-Nsiah to hand over to his deputy by close of Friday, December 14.

"The ministry has been tasked to conduct an independent investigation into the above and take the appropriate action,"it stated.

According to reports, National Security, through its intelligence, discovered heavy pilfering of the resources at the GSFP and recommended the suspension of the coordinator.