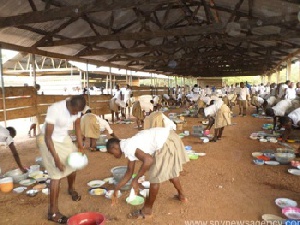 A lecturer with the University of Education, Winneba, Kumasi Campus, Mr. Aaron Kumah is calling for the reversal of government's policy of free Senior High School (SHS) implementation with the current identified challenges.
"Government should quit this free policy and either choose to make all second circle institutions day or boarding completely", the policy analyst suggested.

According to him, the government cannot be pardoned for challenges like no food to feed the students which is an essential need for both boarding and day students.

"The government can also not be pardoned for challenges like accommodation and classrooms", the social commentator on Kumasi-based Abusua FM morning show hosted by Kwame Adinkra stated.

A leading member of the New Patriotic Party (NPP) and former National Coordinator of the Ghana School Feeding Programme, Dr Kwame Amoako Tuffuor admits the free Senior High School (SHS) is fraught with numerous challenges and the earlier government addresses them better for it.

"I wept once when I visited Free SHS students at school", he disclosed
The issue of how best government is keeping free SHS students has become one of the major concerns to both critics of the policy, parents and the opposition National Democratic Congress.

But the government has since said it's committed to make sure these children are treated well academically and socially.

The free SHS was a major campaign tool of the then opposition New Patriotic Party (NPP) prior to the 2008, 2012 and 2016 respectively.

On assumption of office early this year, government reiterated its resolve it was going to implement the policy and begun it this academic with about 400,000 beneficiaries from various Junior High Schools (JHSs).

It has however been characterized by challenges of feeding, accommodation and many others critics say, need to be thoroughly dealt with as it paints a bad picture of the current government and takes a shine out of the whole policy.