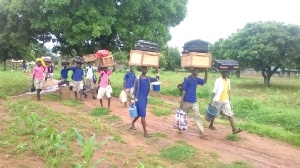 Dr. Matthew Opoku Prempeh, the Minister of Education has revealed that some parents could not provide basic needs for their wards that got admission to enjoy the Free Senior High School Policy.
He said government paid GH?648.00 for each day student and GH?1,104.00 for each boarding student while each technical student had GH?748.00 being paid for day students and GH?1,104.00 for a boarder but still some parents could not fill students chop boxes.

Dr Opoku Prempeh, said this at the Meet-the-Press Series in Accra to address concerns raised by the public regarding the implementation the Free SHS Policy and other education related issues.

The Minister added some parents deferred their wards' admission in order to help them on their farms, others travelled to abroad for continuation while the rest moved to private Schools despite the free policy, hence, reduction in expected number of students to be in School.

According to Dr. Opoku Prempeh , about 38,000 students were still not in school for reasons being that some students printed their placement sheet but could not attend school, some decided to attend private schools, others travelled outside the country while some wanted to improve their results next year.
He said 358,205 students have been enrolled under the Free Senior High School Policy as of November this year, representing 83.9 per cent, an improvement of 75 per cent from that of 2016.

The Minister added the Free SHS Policy was to address issues including removal of cost barriers, improvement in quality educational infrastructure, and equity and employable skills development, which government was on course to achieving.

The Minister said a lump sum of money was given to the schools based on the number of students enrolled in a particular school and said out of 674 SHSs in the country only 100 had submitted their returns as of November 30.