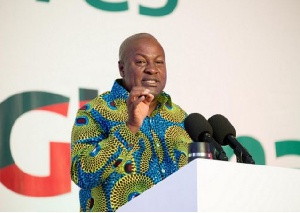 President John Mahama has taken a swipe at the largest opposition New Patriotic Party (NPP) over it's claims that the National Health Insurance Scheme (NHIS) has collapsed under his administration.
He accused the NPP of being insincere as its members are registering party supporters and constituents on the same scheme they are describing as collapsed.

The Presidential Candidate of the NPP, Nana Akufo-Addo and several members of the party are blaming President Mahama and the NDC for sadly allowing the health scheme introduced by the Kufour administration to collapse and have promised to revive the scheme if the NPP is voted into power.

However addressing an NDC crowd at Kade in the Eastern Region as part of his campaign tour of the Region, President Mahama stated that on the contrary the NHIS has rather expanded under his watch.
"We know that God will judge what is the truth about the state of the NHIS and he sees everything including the good work we've done. The NPP is claiming the NHIS has collapsed, if that is the case then why are NPP members registering their people and constituents onto the scheme. Of what importance will that be? If it is collapsed then stop wasting your monies to register for your supporters free of charge. A recent fact finding established that the NHIS has expanded, in 2005 when it begun to the year 2008, only 9 million people went to hospital using the NHIS card.

"In 2015, 29 million people accessed healthcare using the NHIS card. In 2008, government paid GHC 153,000,000 to the various hospitals. In 2015, over 1 billion cedis was paid to hospitals for looking after people using NHIS cards. So the NHIS scheme is not collapsed. The NDC has planned to take a portion of oil revenue to fund the NHIS to ensure further expansion of the scheme. Ghanaians criticized Kwame Nkrumah for the infrastructural development, and same thing is being said about my government, we need these infrastructure to develop Ghana and enhance the living conditions of Ghanaians."