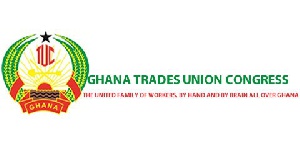 Wed, 20 Sep 2017 Source: GNA
The Trades Union Congress (TUC) has commended President Nana Addo Dankwa Akufo-Addo for keeping one of the flagship campaign promises of the New Patriotic Party; the implementation of the Free Senior High School Policy.
A statement issued in Accra and signed by Dr. Yaw Baah, the TUC General Secretary, and copied to the Ghana News Agency, said labour unions were impressed with the careful planning of the various ministries and agencies in the implementation of the Policy.

It said this was the most important social intervention program that had been implemented in the country since independence.

"We believe it is the most equitable way to distribute the country's resources to all Ghanaians regardless of their socio-economic background," the statement said.

"We agree fully with President Akufo-Addo's statement that the cost of providing free secondary school education would be cheaper than the alternative of an uneducated and unskilled workforce…," it said.

The statement said data from the Ghana Statistical Service indicates that only 15 percent of Ghanaians who are 15 years or older have attained secondary education or higher.

The statistics further indicate that 19.5 percent of Ghanaians have never attended school; 44.6 percent did not complete MSLC/BECE, and only 20.9 percent completed MSLC/BECE.
"After 60 years of independence these statistics are not only shameful, but they are also a barrier to sustainable and inclusive development," it said.

"We expect the Free SHS program to dramatically improve access to education in all parts of the country. But we should not end there. Government should address all other related issues and ensure that quality of education improves, it said.

With the immense opportunities associated with the Free SHS implementation, the only way the cost of the program would pay for itself would be to put beneficiary Ghanaians to productive work, the statement said.

"Additionally, government should begin to think of expanding infrastructure at the country's universities to ensure that the universities can absorb a large number of SSS graduates in the next few years," it said.

It, therefore, assured government of the TUC's support to ensure the success of the Free SHS Policy.
Source: GNA