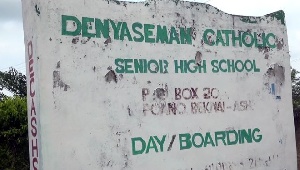 Fri, 22 Dec 2017 Source: Prince Appiah | Luv FM
The Bekwai Municipal Assembly has set up a taskforce to monitor the implementation of the free senior high school programme in the municipality.
The move is expected to track down persons whose actions impede the government's flagship initiative

It follows the arrest of a matron and other workers of Denyaseman Catholic Senior High School for allegedly stealing foodstuffs meant for the school.

Reports indicate they sell the stolen goods to stores in the municipality and it was during one such nefarious move that the syndicate was busted.

Denyaseman Senior High School, with a student population of over 300, is situated at Poano, on the main, Anwiankwanta-Manso road.
It was established as a community school in 1992 and absorbed into the public system in 2010.

President of Poano, Ibrahim Buabeng, who had picked information about the suspected clandestine movement of food items from the school, said he voluntarily put together a surveillance team to monitor what he believed was a syndicate.

"It's something they have been doing for a long time because we have investigated this issue for over a month now they have been smuggling food items, rice, milk, and other products that are meant to aid the smooth running of the free SHS. So we needed to do something to bring the perpetrators to book. We are happy we did that," he said.

Reports suggest that the students were complaining that they were being starved. They noticed that the proportion and quantity of food that was supposed to be given to them had reduced.
There were a series of reports that compelled Buabeng and his team to go to their aid.

The matron, Theresa Essel, and other accomplices are in police custody as investigations begin.

The case was supposed to be heard in court on Wednesday but the court did not sit.

Luv News checks reveal such stolen items are sold to local private shop operators.
Municipal Chief Executive, Kwaku Kyei Baffour, reveal measures are in place to prevent a recurrence in other schools within the municipality.

"Whoever wants to pull the flagship program down will not be spared and if you are caught, you will face the law.

"And so people should be careful; the matrons, headmasters and whoever is in charge to implement this programme, you will be dealt drastically. We have six SHS in the municipality, we have equally gotten wind of some of these things happening there and we have also set people to spy for us, the task force is in place now", he emotionally warned," he said.

Meanwhile, concerns are rife about the invasion of the school campus by snakes and other reptiles because the school is not walled.
The news team chanced on teachers and students killing one of the unwelcome guests (snake).

Mr Buabeng wants the government to put up a wall around the school to protect student and teachers from dangerous creatures and thieves.

Mr Kyei Baffour agrees such intervention is critical but called on relevant authorities to also build teachers' bungalows in the school which will help address the situation.

"All schools without walls must be walled, security must be beefed up and more bungalows be built for these schools, at least when teachers are on campus, they can serve as security as well," he said.
Source: Prince Appiah | Luv FM