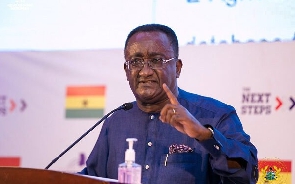 A flagbearer hopeful for the New Patriotic Party (NPP), Dr. Owusu Afriyie Akoto claims that some people are complaining of tremendous hardship.
The former agriculture minister stated that his personal contacts and discussions with grassroots people have proven that people, particularly party members, are hurting while their party is in power.

He has guaranteed the party's delegates that if he is elected as a presidential candidate, he will work tirelessly to improve their well-being.

According to him, the party's members, particularly those at the grassroots (Electoral Area Coordinators and Polling Station Executives), have fared poorly during its six and a half years in power.

He stated that it was because of this that he resigned from his position and accepted the party's flagbearer role.

He claims that voting for him at the Super Delegates Conference and then the National Delegates Congress will improve their lot.
He also urged party delegates not to despair, but rather to gather behind him for him to become the party's flagbearer, allowing him to change things so that everyone may benefit from the fruits of their labour.

Hon. Afriyie Akoto made this observation while speaking to party delegates comprised of Polling Station Executives, Electoral Area Coordinators, constituency executives, and council of elders, among others, on his nationwide campaign tour, which began on Monday, June 13, 2023, in the Greater Accra Region.

Shair Osudoku, Ningo-Prampram, Ashaiman, Domeabra-Obom, Ayawaso East, and Ayawaso West are among the constituencies he visited.

"Our party is in power, and the NPP would not be in power without your support." When I was minister, I flew to all 16 regions of Ghana to meet farmers, extension officers, and others, except in 2020 due to COVID-19. I was doing these things to figure out what was going on in the agric sector. Along the way, I met with members of the party and officials at all levels. There were numerous concerns at these gatherings. The complaints, among other things, emphasised our executives' difficulties.

Many of our party's delegates and leaders, the majority of whom are farmers, were struggling. Some of you are dissatisfied and have given up. You anticipated to see some progress in the few years that this government has been in office. But I want to encourage you not to give up. Things will shift. I am concerned about the well-being of our people, and if elected as a presidential candidate, I will prioritise their well-being. I beg you to vote for me as your presidential candidate, and I promise not to let you down.'"