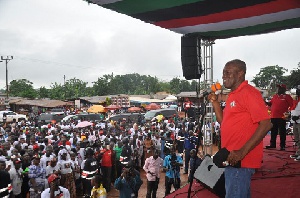 Vice President Bekoe Amissah-Arthur has dismissed claims that President john Mahama and the National Democratic Congress are employing ethnocentric tactics in their campaign, so as to win the December 7, elections.
The NDC as a party, he explained, believes in inclusiveness as the party has never sabotaged or denied any region or group of people of their share of the national cake .

He said the party will always place the unity and peace of the country first in their dealings, including political campaigns as Ghana must not collapse because of one's desire to win political power .
Addressing party supporters in Winneba in the Central region , Mr Amissah-Arthur assured Ghanaians of government's commitment to ensure the cohesion of the country.

Tribal politics , he added, has no place in the agenda of the NDC as government is not reneging in addressing the needs of all Ghanaians irrespective of their backgrounds.