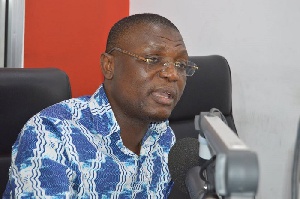 The National Organiser of the opposition National Democratic Congress (NDC), Kofi Adams, has indicated that the vetting of ministerial nominees has exposed the untruths peddled by the governing New Patriotic Party (NPP) prior to the December 7 polls.
"The vetting is bringing the truth, and Ghanaians who were deceived into believing that President Mahama was not working for them are being told the truth by at least some of these nominees who are not being arrogant, who fear God, and who understand that they are speaking under oath and not on a political platform. At least they have been very candid," he stated on Wednesday, January 25.

Mr Adams' comments come in the wake of admissions by some ministerial nominees.

Health Minister-designate Kwaku Agyemang-Manu told parliament's Appointment's Committee that describing the National Health Insurance Scheme (NHIS) as a collapsed intervention might have been too harsh a tag.

The NPP, while in opposition, repeatedly described the scheme as a collapsed intervention and promised to revive it once in office.
"Collapsing might have been a very harsh word. But the bottom line is that when constituents come to us, they tell us the scheme has collapsed. They are sometimes detained because they cannot pay for medications and healthcare. Sometimes I have to forgo GHS200 to get the person discharged," Mr Agyemang-Manu said on Tuesday, 24 January.

Mr Adams said he was "happy that having been elected and having gone to the ministry and engaged the various agencies, the Minister-designate for Health is telling us that it was politics they were doing then, and that the use of the word 'collapsed' was too serious to be used".

He told Citi FM in an interview: "Many people were yearning for a particular change that they didn't even know, and today they have seen it and I believe that many have regretted not voting for President Mahama."