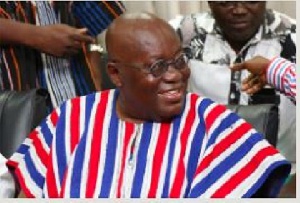 The Bureau of National Investigations (BNI) has recommended to President Nana Addo Dankwa Akufo-Addo to withdraw one of the 54 nominees who have been designated to various ministerial portfolios.
The advice if well taken will avoid any future embarrassment to government and the nation as happened in the case of Eric Amoateng, a former Member of Parliament for Nkoranza North, according to the BNI's reported dated March 2, 2017 and signed by William Akwasi Appiah.

The nominee identified with multiple names as George Oduro, George Best Oduro, George Kwame Oduro, Kay, according to the BNI investigative report was on May 19, 2008 mentioned as a principal suspect in a cocain syndicate.

The report in part further read that on May 2008, George Kwame Oduro travelling on a Canadian Passport numbered LJ557784 arrived at the Kotoka International Airport aboard Royal Air Maroc.

"He is believed to be an accomplice of Nelson Troy Edward, a Ghanaian arrested in Geneva on July 13, 2007, for possessing 3,014 grams of cocaine. Nelson Troy Edward is reported to have mentioned subject (George Kwame Oduro) as the source of the drug," the report stated.
The BNI further reported that the investigative Magistrate who handled the case involving Nelson Troy Edward issued an international arrest warrant for subject's (George Kwame Oduro) arrest in 2008.

At a Parliamentary sitting on Thursday, April 6, 2017, Minority Leader, Haruna Iddrisu also drew the House's attention to the nominee whom the BNI has recommended his withdrawal from the list of 54 nominees submitted to the legislature for approval as a deputy Minister-designate for Agriculture.

However, he was ruled out of order by the Speaker after his attention was drawn to the fact that the report before the House did not include the name of the nominee he was referring to.