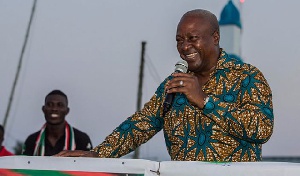 President John Dramani Mahama has pooh-poohed claims by critics that his government has neglected the Volta region in terms of development, which they say amounts to ingratitude on his part.
The President fended off that criticism as he tells Volta Star Radio Thursday that "the reality does not support" the critics' account.

The President who began a five-day tour to the Volta region on Tuesday described the claims as nothing but "political propaganda" by his political opponent.

The Volta region has since 1992 voted massively for the governing National Democratic Congress in successive elections.

Averagely, the party obtained at least 80 percent of total votes cast in the region in each of the six elections held so far under the Fourth Republic.

But the opposition parties believe development in the region has not matched up in any way to votes the NDC garners from there.

Nonetheless, President Mahama has defended his achievements in the region which he said cut across the health sector, education, road, water and electricity among others.
"The chiefs themselves will testify to the good job that has been done over the last four years," he told critics.

In the highway sector alone, he said, the government has injected 1.2 billion Ghana cedis into completed road projects and ongoing construction works.

Touching on water, the President said access to potable water in the region stood at 39% in 2012 but this has been increased to 72% now with other water projects ongoing.

"The statistics do not support that contention [that the Volta region has been neglected], and I don't think that our people should fall for that propaganda," he cautioned.

He said the National Democratic Congress has come out with the "Accounting to the People" book usually referred to as the Green Book specifically for the Volta Region.

"If you look at the amount of work and investment done in the Volta region, I am sure that propaganda will crumble," he touted.