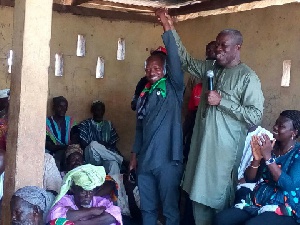 Tue, 1 Nov 2016 Source: Maxwell Addo
The Vice President Kwesi Amissah-Arthur has called on the people of Kumbungu in the Northern Region to Vote for a party that believes in unity and development not a decisive party, so the need to vote massively for the NDC in the 2016 elections.
He said continuity is key, and that the NDC party is a development oriented party. And so the need to maintain President Mahama so that his government would be able to finish with it good works in the area Vice President Amissah -Arthur said President John Mahama beliefs in unity. He described President Mahama as a very peaceful personality who believes in Unity and peace.

He described him as someone who does not to look for division in his party and brought all members of the common good. He said compared to the year 2000 that he visited place he has witnessed massive developmental project under the NDC. On the town. Roads he said government would soon tackle it to improve their life's and and the movement of foods and services.

He used the opportunity to vote massively for The NDC candidate for the area Ras Mubarak and not make a mistake of voting for the CPP candidate in the last bye-elections. On His part the Paramount Chief of the Kumbungu Traditional Area- Kumbungu Naa Iddrisu Abu said he's witnessed continuous development under the NDC administration in his area .
He said he was born there lived there and and is back there as Chief , so the massive infrastructure development that he has witnessed of his 50 years in the area is unprecedented and for the first time he's seeing a tarred road in his area together with a new District Block together with schools on his area. Something he described as laudable. He also asked for God's blessings for the President and his team.

The Vice President also called the chief Gbulun Laana Suleimana Aminu to introduce the NDC candidate for the Area Ras Mubarak and also called them vote massively for him, in order to compliment the good works of President Mahama.

He advised them to shun skirt and blouse since they've seen the outcome of such voting pattern. On his part Gbulun Naa said he prays the NDC wins in order to continue with the good works that they have started for the area.
Source: Maxwell Addo