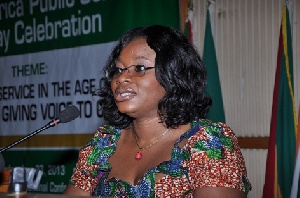 Chairperson of the Electoral Commission (EC), Charlotte Osei, has said the electoral body, under her tenure, will not dance to the tune of any political party or do any politician's bidding, as far as elections are concerned.
Mrs Osei's warning follows accusations by the biggest opposition party, of her – in the party's view – poor handling of certain concerns as were raised by the New Patriotic Party and the Let My Vote Count Alliance about the sanctity of the current register of voters.

At a press briefing organised by the Institute for Democratic Governance, IDEG, in Accra on Thursday, January 7, Mrs Osei said she will not allow the independence of the EC to be toyed with by any party.

The EC came under a lot of flak from the NPP, following the Commission's rejection of the calls for a new register ahead of the November polls.
The EC boss said an electoral management board should never, under any circumstance, be stampeded into taking decisions that favour one party against others or vice versa.

She said people will try to stampede the EC, but the electoral body will stand its ground and do what is right.

Mrs Osei noted that the EC welcomes inclusiveness in the sense that the commission needs to listen to the views of all stakeholders and examine their views, take it on board, if they can, but it will always do what is right and what is legal, adding: "That is why the law gives you independence."