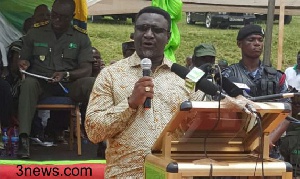 Sat, 8 Oct 2016 Source: GNA
Deputy Ashanti Regional Minister, Mr. Andy Osei Okrah, says, voting down the governing National Democratic Congress (NDC) in the coming polls, would prove to be a terrible mistake.
That, he warned, would reverse the strong progress the nation was making and worsen the living conditions of the people.

He has, therefore, called for voters to renew the party's mandate to continue with its development agenda.

The Deputy Minister was speaking at the launch of the NDC's election campaign in the Odotobri constituency at Hia, in the Amansie Central District.

He assured the people in the area that all feeder roads there would be put into good shape.

Already five of these, were undergoing rehabilitation, he added.
He rallied his party's supporters to work hard - reach out to every voter to convince them to vote massively to return the Mahama Administration to power.

A Deputy National Communications Director of the NDC, Mr. Kwaku Boahen, expressed optimism that the party was going to wrest the constituency seat held by the New Patriotic Party (NPP).

He said this was within reach, given vigorous election campaign by the party's faithful.

He reminded all to ensure responsible political conduct to prevent needless tension and confusion.

Mr. Emmanuel Dede Appiah, the parliamentary candidate, pledged to bring more development to the people, if elected.
Source: GNA