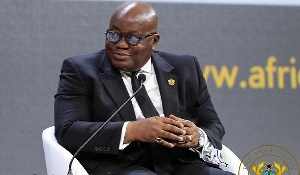 Fri, 20 Oct 2017 Source: Mark Boye
Regional and Zonal Coordinators in the ten Regions under the Ghana School Feeding Programme have expressed their profound appreciation to His Excellency President Nana Addo Dankwa Akufo-Addo for the wonderful opportunity offered them to serve mother Ghana as Regional and Zonal Coordinators.
In a statement issued and signed yesterday, the convener of the Coordinators, Christiana Lovia Nkansah stated that they are sincerely thankful to the President for the opportunity.

"We are not oblivious or unaware of the huge task handed to us and the confidence the President has reposed in us for the successful management of the Ghana School Feeding Programme. We therefore like to assure the President that we would work very hard, diligently and enthusiastically to justify the confidence he has reposed in us to achieve the set benchmarks and take the Ghana School Feeding Programme to a new height," she said.

Madam Nkansah said the fact that all of them (the ten Regional Coordinators and the sixty-eight Zonal Coordinators) are women and majority of the over six thousand caterers and seventeen thousand cooks are also women speaks volumes of government's commitment to empower more women and increase women participation in national development and decision-making.

The President, she said has indeed exhibited his unwavering determination and steadfastness to improve the welfare of Ghanaian women who have for far too long been marginalized at different levels.

"Some of us who are the beneficiaries of the School Feeding Programme are widows who have to fend for ourselves under strenuous and challenging circumstances. But for this opportunity our situation could have been worse", the Convener said.
Madam Nkansah noted that, consistent with the vision of the President and their passionate desire to achieve the objectives of the programme, they shall work collaboratively with the Agriculture Extension Officers in the various Metropolitan, Municipal and District Assemblies to attain the objectives of the 'Planting For Food and Jobs' to boost domestic food production for the achievement of national food and nutrition security.

"We want to use this medium to also express our sincere appreciation to the energetic Minister of Gender, Children and Social Protection, Hon. Otiko Afisah Djaba for exhibiting sterling leadership in steering the affairs of the ministry and offering us the opportunity to serve under the School Feeding Programme" she stated.

According to Madam Nkansah, they also appreciate the Minister for her ability to address the initial agitations, misunderstanding, confrontations and tension that existed among applicants of the School Feeding Programme from Regional and Zonal Coordinators as well as Caterers.

"We pledge to give our full support to the Minister so that we can collectively implement all the good programmes the Ministry is embarking upon" she said, adding that they would work assiduously and efficiently in order to improve on the quality of delivery of the School Feeding Programme.

Madam Nkansah pledged that the President can count on their support all the time and they would not disappoint him.
Source: Mark Boye