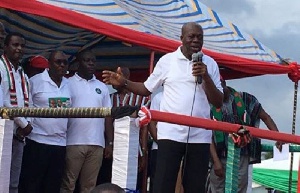 Right on the heels of a sect of Ghanaians lambasting President John Dramani Mahama for supposed divisive comments, the vice-president, Bekoe Amissah-Arthur has dismissed claims that the National Democratic Congress was playing on ethnocentric groups as part of their campaign.
Speaking at Winneba to an group of party supporters, the Veep assured that the claims were being used to falsely brand the NDC.

Amissah-Arthur explained that the NDC believed in an all-inclusive system and that, this was evident in how the party was run as they have "not sabotaged or denied any region or group of people of their share of the national cake".
He continued to promised the electorate that the party will always place the unity and peace of the country first in their dealings, including political campaigns as Ghana must not collapse because of one's desire to win political power .

Mr. Amissah-Arthur concluded that tribal politics had no place in the agenda of the NDC as the party is rather focused on addressing the needs of all Ghanaians irrespective of their backgrounds.