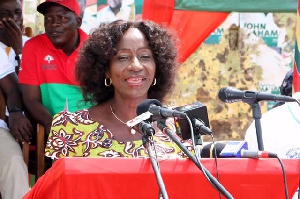 The Minister of Fisheries and Aquaculture Development, Ms Sherry Ayittey has announced a scholarship package to be awarded to children of all fishermen across the country.
She made the announcement today at the 32nd edition of the National Farmer's Day celebrations ongoing at Kintampo in the Brong Ahafo region.

Sherry Ayittey said this is part of government's effort to acknowledge their contribution to the socio-economic development of Ghana.

"Education is very important in transforming communities. And based on this in 2017 the Ministry will initiate our education scholarship programme to give children of fishermen and fishmongers scholarship to go to school, because we believe that families, if we can transform communities, we need to educate the children. So in 2017 all fishermen children and fishmongers children will benefit from the ministry's scholarship scheme for their children."

Meanwhile President John Mahama has dismissed claims by the opposition New Patriotic Party that the Agriculture sector in Ghana is taking a nosedive.
According to him, such perception, often created in the media, is false and a misrepresentation of the facts of the situation.

Speaking at the 32nd Farmers Day celebration in the Brong Ahafo region, Mr. Mahama said the Agriculture sector's contribution to Ghana's GDP appears to be in a fall because other sectors of the economy are matching up.

"The Agriculture sector is not in decline, contrary to the impression we see in the media these days. The impression created in the media is false. Let me state for a fact that the agriculture sector is not in decline. A sector that is growing at 2.5 percent cannot be said to be in decline. The statistics can be crosschecked at statistical service. The fact that agric's contribution to the GDP is not what it used to be in the past, does not mean that it is declining, it simply means that other sectors of the economy are also doing well; which is good for the economy and normal for every developing and developed country," the President said.