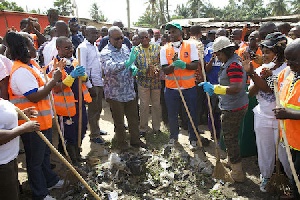 President John Dramani Mahama has assured traders at the Kaneshie Market of improved sanitation and enhanced drainage facilities in his second term of office should he win the December 7 polls.
Mr Mahama, currently on a tour of the Greater Accra Region, made a stop at the market on Tuesday, 11 October 2016.

He said even though the Kaneshie Market is one of the few modern markets to be built in the early stages of Ghana's development, sanitation has been a major challenge.

Kaneshie is one of the flood-prone areas in Greater Accra. It is difficult gaining access to the place whenever it rains.
Mr Mahama said he will ensure that a solution is found to these problems when he is given the mandate to govern the nation in his second term.

President Mahama also used the opportunity to caution the traders and electorate "to desist from violence" in the build-up to the December 7 presidential and parliamentary polls.