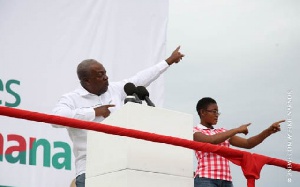 President John Dramani Mahama is optimistic that the governing National Democratic Congress (NDC) will win the December 7 polls with a significant margin ahead of their main rivals New Patriotic Party (NPP).
He expressed confidence that the NDC will gather the necessary votes and cross the winning mark à la Jamaican Olympic medallist and world champion, Usain Bolt.

"I believe by the Grace of the Almighty God, the NDC will win the election in 2016. We are going to be like the man called Usain Bolt. He is the fastest human being. When he is running, by the time the start gun will blast, Usain Bolt is already at the tape. When he reaches the tape, he turns and looks at other competitors struggling and coming and he does [his trademark sign]," Mr Mahama told a gathering of supporters at Kpando in the Volta Region on Monday, October 17.

President Mahama, who inaugurated a US$13million water expansion project, was glad that the constituency had never disappointed the NDC.
President Mahama explained that the new project will provide 1.5 million gallons of water daily, which is a key intervention for the area and its surroundings.

He assured that "the NDC will also not disappoint the people of Kpando".

The President refuted claims by the NPP that the NDC has neglected the people of the region, insisting that the NPP are creating a false impression.