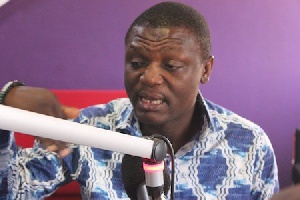 Deputy General Secretary of the National Democratic Congress Kofi Adams says the government is still paying for monies borrowed by the New Patriotic Party to pay salaries of workers At a news conference in Accra on Wednesday, acting General Secretary of the NPP, John Boadu pleaded with Ghanaians not to give the NDC another term in office because it has moved the country backward in the past eight years.
But this assertion Mr Adams disagreed, noting that the country's debt among others are as a result of the NPP's borrowing to pay salaries which the John Mahama-led National Democratic Congress is currently paying.

"The NPP still holds a record for borrowing to pay salaries and such for borrowing will never result in a country being able to pay, and I want to remind them, the monies they borrowed to pay salaries are still being serviced today" he said on Thursday.

Speaking on 3FM's morning show Ssunrise, he added "The NDC administration is paying for those monies that they collected to pay salaries, and that is not an investment.

"If you hear them speak about the NDC borrowing… then I want to tell them that the debt that is so difficult and so painful that we are paying for today is the monies they borrowed just to come and pay salaries".
Mr Adam said the NPP government had invested the monies they borrowed at the time in road construction, people could be moving about easily to transact businesses that would bring them money and pay tax on it which would have been used to service the debt.

He claimed the NPP has proven to be a very disorganised party and a party that do not understand the challenges confronting this country, hence has no business to assume the reigns of the country.

"If there is any political party in this country that for good reasons, must not see power in this country, then it's the NPP. "Every single pesewa that we have either borrowed or whether through bonds, have been invested in a positive direction and the point of investment is well known".

He touted the NDC's achievements citing improvement in water systems, schools, health facilities, roads, airport and sea expansions, gas processing facilities and energy generation as some of the projects government has used monies it borrowed for.