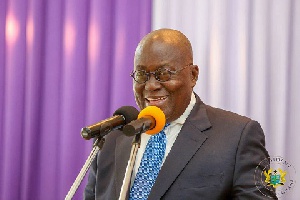 President Nana Addo Dankwa Akufo-Addo, has hinted that government has initiated procurement process for the award of contracts for the provision of some 69,500 mono desks, 13,100 bunk beds, furniture for dining halls, staff rooms of teachers, computer laboratories, and the provision of marker boards for classrooms.
The move he explained is to help address the teething challenges under the free senior high school programme.

Government he announced has also secured funding for the expansion and upgrading of facilities in 75 Senior High Schools across the country, with construction works on the existing Community Day Schools ongoing. He added, government, beginning this year, will also upgrade 42 Senior High Schools into model school status.

The launch of the policy he said has helped beneficiaries have access to secondary education.

"It is public knowledge now that, prior to the launch of the Free SHS policy, our children were falling out of the educational system at every stage in alarming numbers. Free SHS has enabled 90,000 more students gain access to Senior High School education in 2017, than in 2016," the President indicated.

He used the opportunity to caution persons sabotaging the policy and heads charging unapproved fees to desist from doing so or face his wrath.
According to President Akufo-Addo, he knows there are a handful of reactionary elements in the country who are determined to undermine the Free SHS policy.

He recounted how Government, together with the Ghana Education Service and the Council and the Conference of Heads of Assisted Secondary Schools, has agreed to absorb all senior high school fees under the Free SHS policy.

"No headmaster or headmistress, therefore, is to charge any unapproved or illegal fees, or charging fees already exempted under the free SHS policy. Government will make sure of this, and sanction any school head who flouts this directive," he said.

The President continued, "We have a sacred duty to our children, and to the generations beyond, in ensuring that, irrespective of their circumstances, their right to an education is preserved." President Akufo-Addo made this known on Saturday, 17th February, 2018, when he attended the 60th anniversary celebration of Pope John Senior High School and Minor Seminary, in Koforidua, in the Eastern Region.