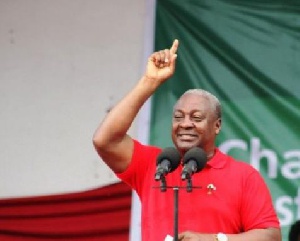 President John Dramani Mahama has urged citizens to uphold the peace of this country as we gradually inch to the 2016 general elections.
The President who was addressing Muslims at the Independence Square during the Eid-al Adha prayers said, the peace that has characterize our elections, defines as a people hence, the need to ensure that it remains stable.

He expressed his joy for presiding over an industrious, united and peace loving country like Ghana.

President Mahama expressing optimism noted that, ''once again when our democratic credentials are tested, on December 7, we would respond with vigour and deliver yet another peaceful, fair and transparent elections to the world.

Ghana he posited, is a model within the sub-region and so each citizen should endeavor to maintain the peace of this country.
Ghana will go the polls on December 7, 2016 to elect a president and parliamentarians.

The Electoral Commission (EC) has come under very serious criticism over its readiness to ensure a credible polls.

The EC on the other hand, has assured the public of conducting a world class polls that would serve as a benchmark for other countries in the sub-region.

As part of reforms to make that possible, the EC intends using lawyers and and chartered accountants as returning officers. Electoral Officers would also be made to swear before a Magistrate Court to ensure they discharge their duties professionally.