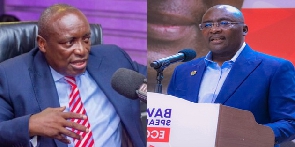 One of the flagbearer hopefuls of the New Patriotic Party (NPP), Kwabena Agyepong, has disclosed one of the moves he made ahead of the decision by him and the other aspirants who wanted a centralised system for their internal polls.
Ahead of the special delegates congress to streamline the number of aspirants for the flagbearer position of the NPP, slated for August 2023, all but the Vice President, Dr. Mahamudu Bawumia, called for a centralised voting process.

But during an interview with Kofi TV, the former General Secretary of the NPP, Kwabena Agyepong, explained that he sent the vice president a text message about the decision.

He added that this decision was made without any ill intent.

"The idea was that if all the 900 people or so are brought to one location and we all vote, it would be of great help. This would also ensure that people are not singled out because of who they voted for. And we did all this with good intention.

"When doing this, we did not leave the vice president out of it. I personally sent him a text message on the day we were doing this, asking him what his thoughts were on the decision. And I did same to all the aspirants," he said.
Kwabena Agyepong also stressed that this decision is based on past experiences where people were victimised because of how they voted in the decentralised system.

He added that it is even more important now because, while the decentralised system worked in the past, the expansion of regions in the country makes this review a better alternative.

The New Patriotic Party (NPP) has scheduled November 2023 to elect its presidential aspirant for the 2024 general elections.

Ahead of that, the party will hold a special delegates congress in August to bring down the current 10 hopefuls to 5, as the NPP's constitution stipulates.

Watch the interview below:


Watch the latest episode of the Lowdown on GhanaWeb TV below:





You can also watch the newest episode of Legal Agenda on GhanaWeb TV below:




Share your news stories and ideas with GhanaWeb




To advertise with GhanaWeb


AE/OGB