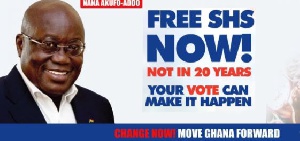 President of the republic, Nana Addo Danquah Akufo-Addo has lashed out at critics who say the free SHS policy will not see the light of day.
In what seems to be a public post to all political detractors, the president expressed confidence in the program stating that it will be aimed at granting quality education to students all across the country devoid of their financial background.

This policy by the president has seen key members of the minority express their reservations warning parents to rather safeguard the future of their kids through the policy. But Nana Addo stays unshaken by these criticisms as he has revealed plans of launching the policy in September.
Meanwhile, government has hinted of funding the free SHS policy through funds from the various oil reserves.