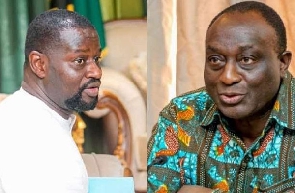 Whatever the circumstances, the Vice President, Dr. Mahamudu Bawumia, would serve as the flagbearer of the New Patriotic Party (NPP) ahead of the 2024 elections, Majority Chief Whip, Hon. Frank Annoh-Dompreh, has said.
Mr. Annoh-Dompreh who doubles as the Member of Parliament (MP) for Nsawam-Adoagyiri, is then urging Mr. Alan Kwadwo Kyerematen, the former Trade Minister, to abandon his plans of becoming the party's flagbearer, as he would not get the needed support from NPP fraternity.

These comments were made by Mr. Annoh-Dompreh as he was speaking to the Nsawam-Adoagyiri women's wing of the NPP about the "Eduru meso" mantra.

"Now, we would tell him plainly that whether it's his turn or not, we would let Bawumia lead us, it's Bawumia that we are going with," he said to the cheering delegates.

He emphasized how well the NPP has been by Dr. Mahamudu Bawumia, particularly when he represented the organization in the Supreme Court during the 2012 election lawsuit.
Even prominent lawyers inside the party's circles, according to Hon. Annoh-Dompreh were unable to defend the party in the 2012 election petition, claiming only Dr. Bawumia was able to do that. He explained that this is why he does not support the "Eduru meso" motto.

He ridiculed, "NPP is the only party with the greatest lawyers yet Dr. Bawumia took it upon himself that he was going to save the party, while someone claimed it wasn't yet his turn, so now let him be told that whether it's his turn or not, Bawumia will go."

Mr. Annoh-Dompreh therefore urged the delegates to support Dr. Bawumia in the upcoming flagbearer election because the latter has the potential to boost the NPP's votes in 2024.

He used the platform to fire Mr. John Dramani Mahama, the NDC's candidate, that he carries no weight and must therefore forget the 2024 elections. According to Annoh-Dompreh, JM would lose horribly in next year's polls.