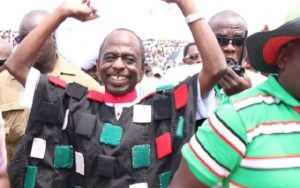 The General Secretary of the National Democratic Congress (NDC), Mr Johnson Asiedu Nketia has finally explained his rationale for wearing a political war smock each time the party congregates.
He disclosed on Wa-based WFM, that the dress symbolizes authority and to assure party foot soldiers who work for its victory at the grassroots, he is in control of affairs as the Chief Executive.

According to him, it is also a demonstration that the party is ready for the political battle and will soldier on to win the 2016 elections denying that his wearing of the smock referred to in the local parlance as 'Batakari Kesie' has some spiritual connotations.

"If you are a paramount chief there are certain dresses you will wear on certain occasions, either at festivals or pouring libation. It demonstrates to community you are a full control and every chief has one to boost the confidence of his subjects"
Mr Asiedu Nketia said it does however not connotes to violence, indicating that political contests in the country are about ideas and as the leader of NDC foot soldiers who move from house to house canvassing for votes, he must distinguish himself as being in charge.

"The NDC is in full control and ready to battle in the 2016. I need to dress like the General who commands the foot soldiers. Those who claim I have spiritual powers because I wear the smock have created their own problem. I will not go out on radio defending that I do not have spiritual powers. If they see me as powerful, then so be it", he said.