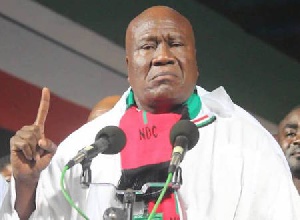 The National Chairman of the National Democratic Congress (NDC), Kofi Portuphy, has urged members of the ruling party to work assiduously to ensure victory in the December 7 polls.
Mr Portuphy stressed that winning at the various polling stations is critical and gives a clear sign of victory.

He made the comments at the Chapel Square in Cape Coast during the party's campaign launch in the Cape Coast South Constituency.

The event, which saw hundreds of people attending, had other party stalwarts addressing the teeming crowd.

Former Central Region Minister Ama Banyiwa Doe, Ghana's Ambassador to China Horis Ankrah, National Communications Officer Solomon Nkansah all told the people not to pay heed to the "falsehoods" the opposition New Patriotic Party (NPP) is going round peddling but be grateful to the good works of President John Mahama and the NDC in the Central Region.
Central Region Chairman of the party Benard Allotey Jacobs, in his address, maintained that the NDC has proven itself to the people of the Region and the people have held on to it to show appreciation by voting massively for President Mahama.

The regional minister and the Member of Parliament for Cape Coast South Kweku Rickets Hagan, who is seeking a second term, also urged the people of the constituency to consider the developmental interventions that he has done in the area for the past four years and rally behind him and President Mahama for another term.

He promised more improvement and developments in the next term if he wins.

A campaign team for the constituency was officially inaugurated by the party's National Chairman, who urged the members to be loyal and work hard to make the NDC victorious in the elections.