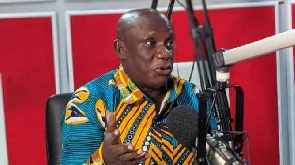 Nana Obiri Boahen, the former Deputy General Secretary of the New Patriotic Party (NPP), has called on university students to lend their support to the presidential ambitions of Dr. Mahamudu Bawumia.
Lawyer Obiri Boahen asserted that Bawumia, who is currently vying for the NPP's flagbearer slot, aspires to become the President of Ghana to prioritize the welfare of students.

Speaking in an interview with Kwabena Mensah Abrompah on Radio Univers on July 7, 2023, he argued that it is crucial for students to back Bawumia's bid, as their support will ensure that he keeps their interests in mind if he secures the presidency.

He also emphasized the significance of students' role in shaping the country's future.

"Those of you in the university that have a voice in the affairs of the country, you have to realize that it is your time, you university students, it is your time, for us we are old men and we will die and be gone."

He urged them to recognize that it is their time to make a difference, asserting that Bawumia's candidacy represents a unique opportunity for positive change.
He stated, "For you guys, you are lucky that God has given you Bawumia, and he is going to change the political landscape. Bawumia has come for you, the boys and girls in the university, so, you people have to embrace him, and not we the old men to be doing the plenty talking…you should be going to the villages to tell them about Bawumia."

Ahead of the NPP's November presidential primary, ten candidates including Vice President Dr Mahamudu Bawumia and John Alan Kwadwo Kyerematen have been crisscrossing the country courting the support of party delegates.

Dr Mahamudu Bawumia as part of his campaign has promised to appoint 10 party members from each constituency into government positions when elected flagbearer and subsequently president.

Alan Kyerematen on the other hand has stated that his tenure will see all delegates of the party being placed on a monthly salary and a social security policy.

The other contenders in the race are MP for Assin Central, Kennedy Ohene Agyapong, a former Minister of Justice and Attorney General, Joe Ghartey, a businessman and energy expert Kwadwo Poku, a former Minister of Energy, Boakye Agyarko.
Completing the list are a former NPP General Secretary, Kwabena Agyei Agyepong, a former MP for Mampong, Francis Addai-Nimoh, a former Minister of State, Dr. Kofi Konadu Apraku and a former Minister of Food and Agriculture, Dr. Owusu Afriyie Akoto.

AM/SARA

Watch the latest episode of The Lowdown:




You can also watch this episode of People & Places here:





Share your news stories and ideas with GhanaWeb


To advertise with GhanaWeb