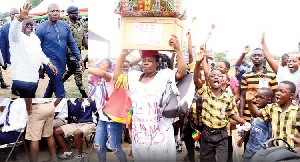 A deputy Chief Executive Officer of the Ghana Export Promotion Authority, Mr Akilu Sayibu, has appealed to the youth to take advantage of the free senior high school education to make themselves productive in future.
The deputy CEO gave the advice when he addressed some youth groups at the Agbogloshie market in Accra.

"The free SHS policy should mark an end to the era of the youth dropping out of school because of non payment of school fees and in effect, resort to engaging in menial jobs that not only exposes them to high risk but was also dangerous to their growth and health," he said.

Mr Sayibu appealed to the public education organizations like the National Commission for Civic Education (NCCE), Information Services Department and the mass media to embark on a campaign to educate the youth about the Free SHS Policy.
Whilst commending President Nana Addo Akufo Addo for the bold step in implementing the policy, Mr Sayibu called on stakeholders like chiefs, religious leaders, Assembly members, Heads of second cycle institutions among other agencies to be vanguards of the policy to see to its success for posterity and mother Ghana.