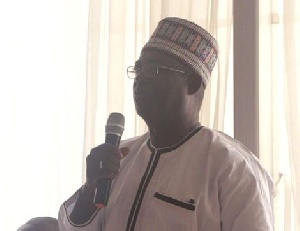 Tue, 22 Nov 2016 Source: The Republic Newspaper
A renowned Muslim Scholar, Professor Emeritus Lukeman Mohammed has described as very insulting and denigration of Muslims and others who live in Zongos, the promise to Develop a Zongo Development to raise the image of such communities.
Professor Mohammed, a senior Lecturer at the City University of New York said politicians should seize looking down on the intelligence of people of northern origin who live in such deprived communities with vague promises.

He was contributing to a forum during Chief of Staff, Julius Debrah's encounter with Professionals.

The Professor who sounded very emotional elaborated; "I find this statement very discriminatory. I find this statement as being called special. Let us treat Zongo people just as we do to all Ghanaians. That Zongo Development Fund in our sense is not doable. I heard some lies over there but please let us not treat Zongo people that way"

Professor Mahammed did not mention any political party but he was obviously reacting to a promise by the New Patriotic Party NPP.

Ghana's largest opposition party has been parading series of promises to the Zongo community particularly, referring to the choice of Dr Mahamadu Bawumia as running mate as a key example of its commitment.
But Professor believes Dr Bawumia a Muslim has failed to protect the dignity of Muslims by speaking against the import of Nana Addo's campaign team.

The NPP and the NDC have been debating each other over policies and previous actions by their governments to promote the interest of Muslims and Zongo communities by extension.

Many aged Muslims whose parents were chased out of the country when Nana Akufo-Addo's father, briefly acted as Ghana's President.

The pain, loss and bitterness is still vivid in their minds and have vowed to vote against the Danquah Dombo Busua tradition.

The NDC which is exploiting it however insists its governments have demonstrated real commitment.
President John Mahama's government has built what for now is the only Islamic College of Education in West Africa at Wenchi which will help Train Islamic teachers in Arabic .

The NDC saw creation of the Islamic Education Unit. The NDC government under Jerry Rawlings passed a law creating two holidays to commemorate holy days on the Islamic calendar.

The NDC has promised to pass a policy that will make Arabic examinable in schools which offer them

The NDC, which has never elected a Moslem as a Vice Presidential candidate or candidate is also in record for creating the three regions of the north which opened up development in the area.

Professor Mohammed's strong objection amplifies the position of the silent majority who have read in between the lines.
Zongos are areas populated predominantly by settlers from Northern sahel areas.

Many of the settlers there are few who remained and grouped in those deprived areas to resettle after their parents properties were seized under the Aliens Compliance Order.

Critics of the NPP promise have asked few questions the party has avoided.

Does it mean that the zongos will be developed separately from the district where they settled?

Will it be resourced through the consolidated fund?
Does it mean that, projects in those districts will not be extended to the zongos because they would already have their developmental programs ?

Is the NPP by this telling us that the members of the zongos doesn't deserve to be among others, so creating a different " world" for them ?

Would the NPP create funds for Ewe settlers in the Ashanti region too?  
Source: The Republic Newspaper