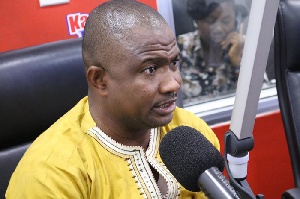 Communications Director of the National Democratic Congress [NDC], Solomon Nkansah says the flagbearer of the opposition New Patriotic Party [NPP], Nana Addo Dankwa Akufo-Addo knows nothing in the bible.
According to him, the NPP leader is only familiar with the "Old testament" version of the bible which to him is outmoded.

Even though Nana Addo has been captured quoting verses in the Old and New Testament, Solomon Nkansah insists he is "dumb" biblically.
"Nana Addo has less knowledge about the Holy Book. Even when he reads the understanding is not there for him. All he is well abreast with in the bible is David and Goliath," he said.

". ..The days of Goliath was about war and that is what Nana Addo is interested in," he said in an interview on NEAT FM's morning show 'Ghana Montie'.