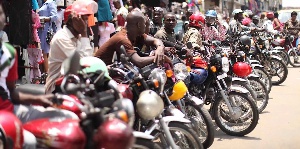 Motorcycle accidents are on the ascendancy in the Bono Region, claiming more lives in the 1st and 2nd Quarters of 2021 according to the Motor Traffic and Transport Department, MTTD of the Ghana Police Service.
Statistics from the MTTD indicate, out of the 44 deaths resulting from 98 road crashes within the 1st and 2nd Quarters of 2021, 30 were as a result of motorcycle accidents.

The Bono Regional MTTD Commander, Supt. Stephen Tenkorang, speaking to GBC News stressed the need for motorcycle riders to wear their helmets and comply with road safety regulations.

According to the MTTD Bono Regional Commander, Superintendent Stephen Tenkorang, 51 accidents were recorded between January to March 2021, which resulted in 21 deaths, 21 serious injuries and 9 minor injuries.

He said a total of 85 vehicles were involved, 35 of them were commercial, 14 private and 36 motor bikes. 23 deaths and 61 injuries also resulted from the 51 accidents.

Turning to the 2nd Quarter of 2021, Superintendent Stephen Tenkorang said 47 cases were recorded in the 2nd Quarter from April to June, out of this 16 were fatal, 18 serious and 13 minor. 68 vehicles were involved with 20 of them commercial, 24 private and 24 motor bikes. In the 2nd Quarter 21 deaths and 64 injuries came out of the accidents.

In all, Bono Region recorded 44 deaths in the 1st & 2nd Quarters.
Superintendent Tenkorang indicated that, comparing this same period of 2021 to 2020, there had been a rise in cases.

He attributed the rise to a number of factors such as, abuse of road traffic regulations, wrong overtaking, poor vehicle maintenance culture, the weather and misuse of motor bikes.

Superintendent Stephen Tenkorang indicated one of the major causes of accidents in the Bono Region are motorcycles as about 80% of motorcycles are unlicensed.

He also cautioned those using reflective lights to desist from the practice.

"I appeal to the public to see the accident situation as a major concern and join hands with the MTTD and the National Road Safety Authority to help protect lives and property'', Superintendent Stephen Tenkorang stated.