Sports News Tue, 24 Dec 2019
The image of George Afriyie cutting a 'disappointed and nipa y3 bad' figure after the collation of the first round of the GFA elections was a masterpiece of photo-journalism that depicted the state of a man who prior to the election had exhibited some level of boastfulness that earned him a few critics.
That picture, juxtaposed to his expression during the famous 'awoof apae' statement was epic and will always come up for mention whenever there is a discussion about the 2019 GFA Election.
Images are powerful as they convey thoughts and messages that words may not be able to convey. A look at the photo reveals the mental state of a man who was having a conversation with himself and perhaps re-echoing Sir John's 'fear delegate' statement.
2019 has been an atrocious year for Ghana sports with little success chalked and through it all there have been photos that will remain with us forever.
GhanaWeb takes a look at some 'iconic' pictures from sporting events this year.
George Afriyie at GFA Congress
When Sir John made that 'fear delegate' statement after losing the NPP Executives elections, he wasn't only lamenting his defeat but was also sounding caution to all prospective position seekers not to be complacent and trust people with the voting power.
This piece of advice which was borne out of a terrible experience was flatly rejected by George Afriyie ahead of the GFA Elections.
"I don't fear delegates, I trust them. I'm part of the old stock. I know what we went through, and where we want to go".
George surely conceived a different mindset after the first round of the GFA elections after his over-confidence was rewarded with 40 votes compared to Kurt Okraku's 44.
Clad in white, his back against the red-stuffed seat at the College of Physicians and Surgeons, sweat dripping from every possible hole on his head and face, George surely learnt to fear delegates that day.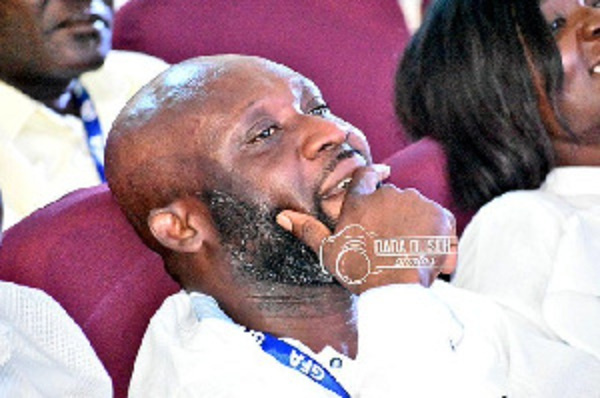 Mubarak Wakaso
There is a reason why Mubarak Wakaso is a fans favourite. Compared to some players in the current Ghana team, Wakaso is definitely not the most technically gifted but what sets him apart from the pack is passion and dedication he shows when on the field.
At a time when Black Stars players are accused of playing for the cash and not the love, Wakaso has often been singled out as the patriotic one who covers every grass on pitch.
Ghana's best player at the 2019 broke down and wept uncontrollably after the team was eliminated by Tunisia.
His viral picture was one of the most iconic photos from the tournament.
Dogboe, Naverette part 2
'Dem beat am brutal' a post on social media with a picture from the bout read.
A pretty insensitive and heartless post but it was a perfect description of the fight.
Dogboe was not beaten, he was battered. His 'pretty boy' face was replaced with a swollen one that obviously took him some days to recover.
Since that defeat, Dogboe has been in the gym working hard to get back in the ring and wrestle back his title.
George Afriyie hugs Kurt Okraku
Ballot boxes had been re-arranged, delegates who stormed out of the election room after the second round voting to enjoy some fresh air had taken their seat and ready to cast their vote for the third time.
Out of one of the numerous exits in the building came George Afriyie. He went up, signaled Dr Kofi Amoah to hand him the microphone and he began what turned out to be his concession speech.
A pretty short but historic speech. At the end of his speech, he hugged and congratulated Kurt Okraku in a show of sportsmanship.
Kurt the victor, George one of the losers, Ghana football the biggest winner.
It was a surreal moment and a moment that will live almost everyone at the election grounds.
Kurt kissing his wife after winning GFA elections
Throughout the election process, Mrs Okraku was understandably given a background role to perhaps protect her from the harsh words from some of her husband's opponents.
On the election day, there was no sight of her until when it felt like victory was in sight.
In came the beautiful and glowing Mrs Rebecca Okraku, descending the stairs in her full glory. Took her seat and after the victory speech had been given by his victorious husband, she held him and gave him a passionate kiss. A romantic scene it was.
The Kurts might have shared a lot of kisses in their marriage but that particular kiss is perhaps the most memorable one after their wedding.
Richard Commey
Leaning on one kneel as he attempts to get up after being canvassed, referee doing the counting and Lopez watching anxiously from his corner. That picture from Commey's fight with Lopez was irresistible.
Commey lost his IBF title to Lopez after a round 2 technical knockout.
The Ghanaian has promised to work hard and regain his title.
Ghana's men relay team at the 2019 African Games
Four well-built men clad in yellow black sports costume with 'chains' dangling on the necks of some of them and the Ghana flag. A truly beautiful picture it was.
Ghana's status as a powerhouse of African sprints has long been deleted but at the 2019 African Games Sean Safo-Antwi, Benjamin Azamati-Kwaku, Martin Owusu-Antwi and Joseph Amoah upset Nigeria and Ivory Coast to win gold for Ghana.
One of the pictures of their celebrations as in below was pretty appealing.