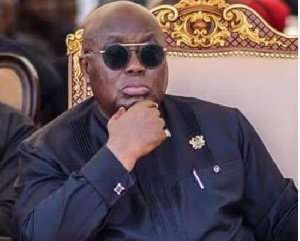 Ghana's President, Nana Akufo-Addo has refuted recent claims that Ghanaian are xenophobic following a series of attacks and vandalisation of Nigerian-owned shops by some Ghanaian traders at Suame Magazine in the Ashanti Region as well as the forceful closure of others in Accra by angry Ghanaian retailers.
Per Ghana's laws, foreigners are barred from engaging in retail trade. It is the preserve of Ghanaians.

The angry Ghanaian traders, therefore, said they were merely enforcing Ghana's laws.

But the Ghana Police Service has warned them against taking the laws into their own hands.

Addressing the Ambassador Extraordinary and Plenipotentiary of the Republic of Côte d'Ivoire to Ghana, Togo and Benin, His Excellency Bernard Ehui Koutoua, at the Jubilee House when he called to bid farewell to Ghana after his eight-year service, Mr Akufo-Addo said: "In recent times, some utterances in Ghana and actions of a few has given the impression somehow rather that Ghana is now becoming a xenophobic state; that we have problems with our fellow Africans. That is the exact opposite of the truth".

"There is no xenophobian in Ghana; we are not a xenophobic state," the Ghanaian leader said, adding: "We are the pan-African nation that has opened its doors to all Africans and they are not going to be the object of any hate campaign in Ghana."
"What we will insist on, which is what every nation insists on, is that our own domestic laws are respected by those who come to our country," he said.

For his part, the outgoing Ivorian Ambassador and Dean of the Diplomatic Corps in Ghana said under the leadership of President Akufo-Addo and President Alassane Ouattara, "The joint operations of our two countries have made it possible to deal with maritime piracy and terrorism."

He was hopeful that the relationship between Ghana and Cote D'Ivoire will be deepened further, even after his departure from Ghana.

The Ambassador of the Republic of Kuwait to Ghana, His Excellency Mohammed Hussain Al-Failakawi; the Ambassador of the Kingdom of Morocco to Ghana, His Excellency Mohamed Farahat; and the Ambassador of the Kingdom of Belgium to Ghana, His Excellency Hughes Chantry; were also at the Jubilee House to bid farewell to the President as they bring their tour of duty in Ghana to an end.