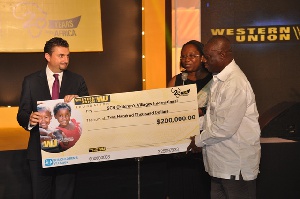 Wed, 30 Sep 2015 Source: SOS Children's Villages
The Western Union Foundation, through its Agent Giving Program, and thirty-two Western Union Agents in Africa, today announced the donation of a US$200,000 grant to SOS Children's Villages, confirming its continuous support for education.
Dr. Israel Ofei of the International Senate for SOS Children's Villages accepted the grant on behalf of the organization during Western Union's celebration of its 20th anniversary in Africa.

The Western Union Foundation Agent Giving Program provides one-for-one matches on qualifying Western Union Agent donations to eligible non-profit organizations in support of education, economic opportunity and disaster relief.

Western Union Agents have generously contributed to this project which will benefit 15 African countries: Angola, Benin, Botswana, Burkina Faso, Cameroon, Democratic Republic of Congo, Ghana, Guinea, Kenya, Mali, Niger, Senegal, Tanzania, Togo, and Zambia.

Patrick Gaston, President of the Western Union Foundation, said, "The Foundation is dedicated to creating a better world, where the ability to make dreams come true through economic opportunity is not a privilege for a few but a right for all.

This grant will directly impact more than 700 orphaned, abandoned, and other vulnerable African children, increasing educational access opportunities for them through school fee scholarships and distribution of critical school supplies; improving the quality of education at primary, elementary and secondary level through the construction of new facilities, provisioning of enrichment activities; and the inclusion of new technology in the curriculum."
SOS Children's Villages is an international organization that builds families for orphaned, abandoned and other vulnerable children.

Across the world, millions of lives are impacted by the organization's family support and care programs, medical centers, schools and emergency relief efforts.

"We are incredibly thankful to the Western Union Foundation for this generous gift that will help improve the lives of vulnerable children living in Africa today," said Dr. Ofei upon receiving the grant.

"These children have lived through unimaginable circumstances. With this gift, they will be given the education, tools and support needed to help them rise up and achieve their dreams. This will no doubt make a positive impact on their lives and their communities."

"The Western Union Foundation works with ngos that share its priorities of lifting people out of poverty through education," said Patrick Gaston.
"Our work with SOS Children's Villages is the ideal way of reaching out to children and making a difference in their lives. Through this project, we encourage and enable children to strive for a high-quality education."

The Western Union Foundation has a long history of giving back to communities across the African continent, with its first of many grants made in 2001, shortly after the Foundation was launched.

Since then we have continued our support, and in many cases, worked together with Western Union Agents to support organizations that promote economic opportunity and growth for individuals, families and entire communities throughout the region.

Since its creation, the Foundation has committed US$8.931 million in grants to 159 NGO's in more than 40 countries across Africa.
Source: SOS Children's Villages