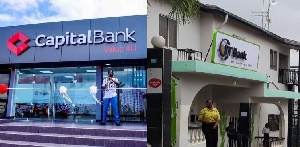 Wed, 16 Aug 2017 Source: Nana Kwabena Agyare
Communications team member of the ruling New Patriotic Party, Yaw Preko has revealed that the indiscriminate borrowing under the former Mahama Administration is the reason for the collapse of UT and Capital Bank.
According to him, the reason behind the collapse of the two banks is debt. He explained the only way a bank would collapse is when the debt is more than their assets.

Explaining to Bonohene Baffour Awuah on the Yensempa show, Yaw Preko stated emphatically that the previous administration had an insatiable appetite for borrowing from local banks.

"Banks Collapse when they are in debts that they cannot pay. There are records to show that the NDC government borrowed huge sums of monies from various local banks." –He added.
Yaw Preko said the only reason that the NDC condemned the prediction of the then running mate of NPP, Dr. Bawumia when he came out to warn in 2016 that some banks in the country were on the verge of collapsing was because they did not want the public to know of their indiscriminate borrowing.

Explaining further, the NPP communication team member said the frequent borrowing from local banks under the previous administration also resulted in the denial of loans to Ghanaians because the banks preferred to give loans to government rather than individuals. According to him, individuals who took loans had to pay with high interest.


Source: Nana Kwabena Agyare