Regional News Thu, 20 Oct 2016
PRESEC Old Boys commission new school gate house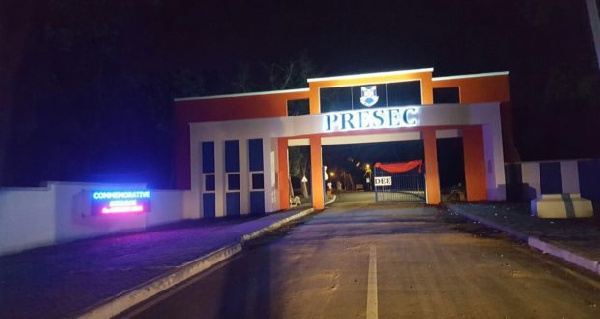 As part of this year's edition of the Presec Torch and Bonfire Night, the old boys of PRESEC have commissioned a new gate house for their alma mater.
ADVERTISEMENT
The new Gate House has an LED screen, an office and a visitors' waiting area. It was dedicated by Rev. Prof. D.N.A. Kpobi ( Odadee 1972), who was assisted by Rev Dr. Ebenezer Markwei (PRESEC Board Chairman, Odadee 1978), Lady Queene Asiedu-Akrofi (Headmistress) and Mr William Ofori-Darko (Odadee 1976).

The commissioning was done on Sunday, October 9, 2016.

The Torch and Bonfire Night was, however, held on Friday, October 7, 2016 on the PRESEC campus. The theme for the night was 'Light up for peace' and featured some great people in the country, including Citi FM's Bernard Avle, EL and Jayso.
ADVERTISEMENT
There was also the signing of a peace pole. All those who appended their signature on the pole did it as a way of showing their commitment to ensuring that there will be a peaceful election in December.

This year's Torch and Bonfire Night was organised by the 2006 year group.
ADVERTISEMENT