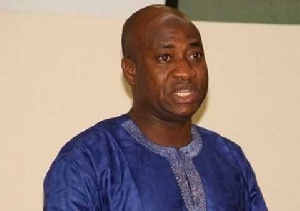 Former Deputy Minister of Trade and Industry, Murtala Mohammed, has said the government must not shy away from implementing the Ghana Investment Promotion Centre (GIPC) Act which prevents foreign nationals from engaging in retailing, as a result of the country being a signatory to the Economic Community of West African States (ECOWAS) protocols.
According to him, the domestic laws must be respected by all and sundry before giving considerations to other foreign agreements or protocols.

He explained that if protocols are implemented ahead of the domestic laws, it will mean any foreign national can enter the country and behave anyhow under the cover of protocols.

His comments come on the back of current agitations between Suame Magazine traders in Kumasi and Nigerian nationals who have opened up retail shops at Suame.

On Wednesday, 19 June 2019, a group of young men believed to be members of the Ghana Union of Traders' Association (GUTA) clad in red bands attacked a shop belonging to a Nigerian trader destroying items in the shop and burning car tyres amidst chanting of war songs.

The Ghanaian traders argued that they are only enforcing the laws of Ghana which bar foreigners from engaging in the retail sub-sector, a preserve of Ghanaians.
Speaking on the Ghana Yensom on Accra 100.5FM hosted by Kwabena Prah Jnr (The Don) ON Tuesday June 25, Mr Murtala who is also a former NDC Member of Parliament for Nandon, said: "The ECOWAS protocol doesn't deny you the power to enforce your domestic laws.

"We have our domestic laws and we are a stingray to ECOWAS. ECOWAS protocol itself recognizes that those domestic laws, as long as they are not in a variance with the united position of the sub region ought to be respected.

"Now, if you tell me because of ECOWAS protocol of free movement of goods and services and people you can't enforce your domestic laws, then it means any foreigner can come and do anything in this country and hide behind ECOWAS. Nigeria itself also has a similar law to that of the GIPC laws.

"If we are a signatory to ECOWAS, we respect it but we also have our domestic laws. if we think the domestic laws are not in consonance with the ECOWAS protocol then we must take steps to amend them but as long as they are not amended they out to be implemented."