General News Fri, 27 Apr 2018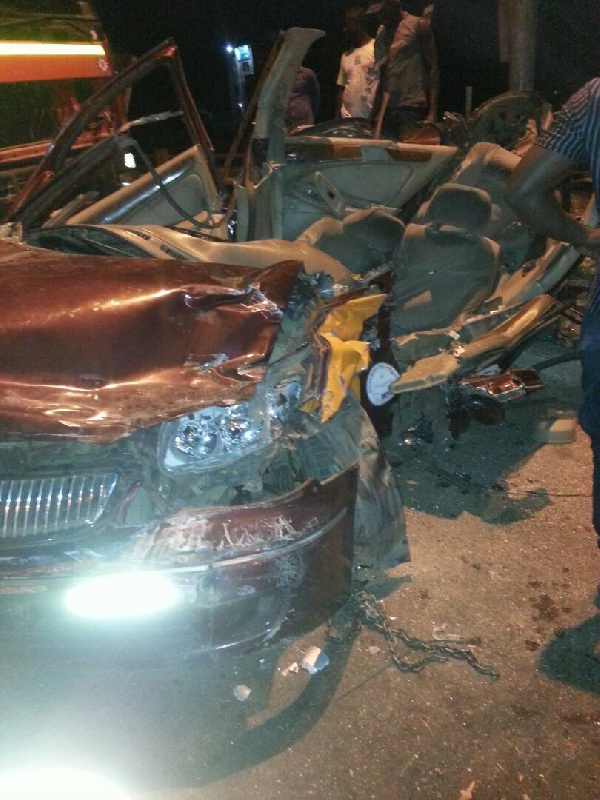 A trailer fully loaded with bags of cement from Tema to Winneba Thursday evening crashed into a taxi in front of Fiesta Royale Hotel at Dzorwulu junction.
Eyewitnesses at the scene told GhanaWeb that the accident which occurred around 8.30 pm saw a trailer travelling from Tema with the registration number AW 2276-11 fail its breaks and run into a taxi with the registration number GW 1102 W close to the Dzorwulu traffic light.

Hawkers in the traffic together with some drivers at the scene quickly helped the taxi driver out of his mangled vehicle and he was rushed to the hospital while the trailer driver remained unhurt.

No death occurred.

The Ghana Police Service were at the scene to ensure that the vehicles were towed to the appropriate quarters and also ensure that law and order prevail among the road users on the road.
Meanwhile, a 15-vehicle collision occurred just two days ago at the same spot. At least 15 vehicles were wrecked in the accident at Dzorwulu after a trailer fully loaded with bags of cement run into them on the stretch of the road late Wednesday, 25 2018.

Click photos for pictures of the accident