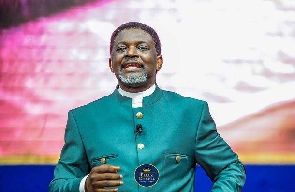 Prof Daniel Bruce, a clinical psychologist and lecturer at Methodist University College Ghana, has explained that the 'Nogokpo is a demonic headquarters' statement made by Archbishop Charles Agyinasare is an insult to the people of the Volta Region.
According to him, even though Archbishop Agyinasare, the founder and leader of Perez Chapel International, might not mean it, his statements imply that the people of the region are demonic.

Speaking in an interview on GTV, on Tuesday, June 6, 2023, monitored by GhanaWeb, the academic urged the archbishop to honour the innovation by the chief of Nogokpo to explain the statement he made.

"I think, he might not be referring to the deity but he was referring to the community, that is where the problem is coming from – that, that whole community is the demonic headquarters of the Volta Region.

"And he even went beyond the Nogokpo community, he was referring to the entire region. It means every part of the Volta Region is demonic but they derive their supreme power from the Nogokpo community. He is not talking about the deity; he is talking about the people and the demonic nature of that community.

"And as to how he was able to know that it is a demonic capital of the whole Volta Region, he must go and explain. It is like saying Anloga is the capital town of armed robbers, you are insulting the whole Anglo – that you the only business you do is to harbour armed robbers and release them," he said.
Prof Bruce added that the pastor should not be afraid of going to Nogokpo because nothing will happen to him if he honours their invitation.

He said that the people of Nogokpo are good and peaceful people, and the comments made by the archbishop have really hurt them.

Meanwhile, Agyinasare said that he never meant to denigrate the people of the Volta Region because his wife is also a native of the region.

He explained that he was only referring to an incident that happened after a crusade he had as a young pastor.

"In reference to Nogokpo, I wish to clarify that I never intended to refer to the town but an incident that happened after a crusade at Aflao. I had absolutely no intention to cast a slur upon the people of the Nogokpo Town and the Volta Region as a whole.
"I have had a very cordial relationship with the people of the Volta Region. My wife of 38 years is an Ewe from Keta. And two of my sons bear Ewe names. All of the examples I gave were not intended to denigrate any of the towns and their people but to elucidate the principle of divine protection to congregants," he said.

Some chiefs of Nogokpo have ordered him to appear before them over the comments he made or suffer the consequences.

His church announced a one-week fast and prayer exercise over the threat of the Nogokpo chief.

Watch the interview below:


Also, watch the latest episode of GhanaWeb Election Desk on GhanaWeb TV below:





Meanwhile, watch the first episode of Everyday People on GhanaWeb TV below:




IB/OGB