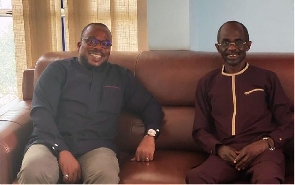 National Democratic Congress Council of Elders Chair for South Africa and the Group Chairman of Allied Consortiums, Mr. Benjamin Kofi Quashie has postulated that, the changes in NDC leadership in Parliament is a sign of them hitting hard the NPP vulnerabilities.

He is of the opinion that, looking at the economic quagmire in which Ghana finds itself, matters of our ailing economy needs a finance mind and the leadership of the party in Parliament must reflect same. This, to him, should not result in any chaotic situation in the party.

Allied Consortiums Group Chair believes that, a house divided against itself cannot win any battle but, if the National Democratic Congress can close their ranks irrespective of the leadership changes in Parliament, they can win the 2024 general elections.

He averred that, chaos, misunderstanding and conflicts are normal within any group, however, he is urging all party members to put their individuals differences aside, come together and be battle ready for 2024.

Speaking to Nyansa TV, Tuesday 24th January, 2023 on YouTube and expressing his views concerning the current leadership changes on the NDC front in Parliament, he disclosed that "Chaos isn't a pit. Chaos is ladder. Many who try to climb it fail and never get to try again. The ladder is real. The climb is all there is comrades. This change in our leadership in Parliament is a sign of us hitting the NPP vulnerabilities."

He furthered that "Matters of our ailing economy needs a finance mind. It all will make sense to us all soon! We've elected a fearless and results driven executives. The NDC would be united and poised to win election 2024", Mr. Kofi Quashie affirmed.

The SA NDC Council of Elders Chair made these statements when it emerged today that, the National Democratic Congress (NDC) has made changes in the party's leadership structure in Parliament with Dr. Cassiel Ato Forson replacing Haruna Iddrisu as Minority Leader.

The party informed the Speaker of Parliament in a letter dated January 23, 2023, signed by the General Secretary, Fifi Kwetey.

Among the changes, Emmanuel Armah Kofi Buah also replaces James Avedzi as the Deputy Minority Leader while Kwame Agbodza is now the Minority Whip with Ahmed Ibrahim as first Deputy Whip and Comfort Doyo Ghansah as Second Deputy Whip.

These changes in the party's leadership in Parliament has ruffled the feathers of some of the rank and file. It is on the back drop of this, that Mr. Benjamin Kofi Quashie has charged party followers to respect the decision of the party and to support same for victory 2024.